Sheboygan Wisconsin Charter Fishing Reports
Provided by Captain James Schlegel of Sea Dog Sportfishing Charters of Sheboygan, with contributing reports from other area anglers.
Captain James Schlegel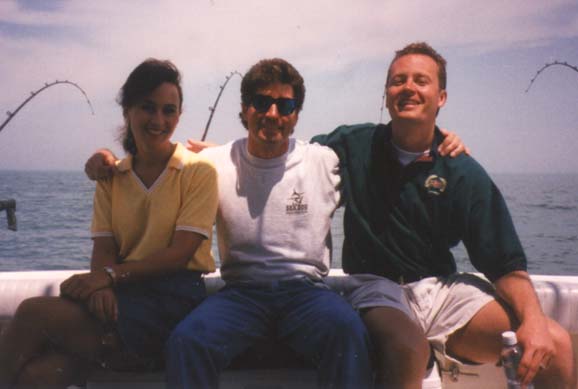 Captain James Schlegel (center), with hosts of Discover Wisconsin television series Stephanie Klett and Rick Rose (1994).
Captain James Schlegel has been a Great Lakes licensed guide since 1984, and has fished out of the port of Sheboygan the entire time. Captain Schlegel has been Sheboygan's premier guide for many years, leading all area guides in both fishing trips and fish harvest. In 2005, he guided a record 254 trips for the season, a feat no other licensed guide in the history of Wisconsin charter fishing has ever accomplished at that time. He is the only Wisconsin state guide to run more then 200 trips the past 20 seasons, and the only Coho Derby super tournament champion two consecutive years. Over the past several years, he has guided anglers to some of the largest fish caught out of Sheboygan waters. In addition to spending that much time on the water, he has maintained a perfect safety and conservation record. Captain Schlegel is an active member of the Sheboygan Area Great Lakes Sport Fisherman Club and currently serves as vice president, newsletter editor, and organizes several club events. He is a member of the Sheboygan Area Chamber of Commerce and served on the City of Sheboygan's tourism advisory committee. He is also the only recognized "Picked-By-You" top rated fishing guide out of the port of Sheboygan.
Jim grew up in Sheboygan along the shores of Lake Michigan and developed an interest in fishing early in life while fishing with his grandfather. With an interest in design and mechanics he graduated from Sheboygan North High School with the class of 1978. During that time he was involved in a variety of activities including amateur boxing. Entering a number of boxing tournaments, he was awarded the Wisconsin Golden Gloves outstanding boxer of the year award in 1977. After receiving too many blows to the head (which explains a lot of things) he then focused his attention on academics and fishing. Jim attended Lakeshore Technical College and earned a degree in mechanical design in 1980. After a few years working in the engineering field it was obvious Lake Michigan fishing was his calling. Sea Dog Charters was started in 1984 as a way to earn a little extra income while sharing his love of fishing with others. The charter fishing business grew each year, and many lifelong friendships were formed along the way. Jim is a hands on guide and enjoys spending as much time on the water as is possible. He has always been willing to share with others his experiences on the water by regularly speaking to fishing clubs, providing online fishing reports, and volunteering for a number of activities whose purpose is to protect this sport fishery for future generations. Jim has a background in doing engineering contract work for a number of fortune 500 companies relating directly to the outdoor recreational industry.
Jim always enjoys spending time with family, traveling, kayaking, hiking, jogging and of course all types of fishing.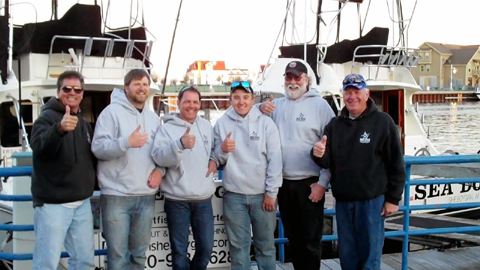 Our fishing team for 2022 welcomes you! Captains Jim, Bob & Brian, First Mates John, Troy, Alex, Mike, Al and Chris.
---
Send us an Email
Or call 920-918-2628 for fishing reservations
Sea Dog Sportfishing Charters Home Page
Captain James Schlegel and Sea Dog Sportfishing Charters provides over 39 years of full time experience fishing Lake Michigan
Wisconsin Salmon Fishing and Wisconsin Trout Fishing on Lake Michigan out of Sheboygan Wisconsin - Copyright 2001 - 2022 All Rights Reserved
Wisconsin. Fishing Charters, Wisconsin Charter Fishing for Chinook Salmon, Coho Salmon, Rainbow Trout, Brown Trout, and Lake Trout
Wisconsin Salmon Fishing, Lake Michigan Salmon Charters, Salmon Fishing Charters Wisconsin, Charter Fishing Sheboygan, Charter Fishing Wisconsin