Sheboygan Wisconsin Charter Fishing Reports
Provided by Captain James Schlegel of Sea Dog Sportfishing Charters of Sheboygan, with contributing reports from other area anglers.
Sheboygan's Big Fish Board
(updated 2/04/23)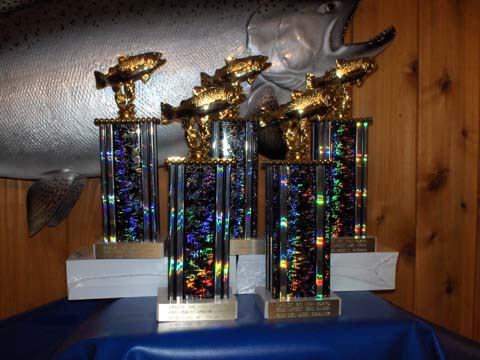 The waters offshore of Sheboygan Wisconsin have produced some exceptionally large trout and salmon over the years. The following is a list of the largest documented fish caught out of the port of Sheboygan starting in the calendar year 2001. Any angler is welcome to enter their fish on the "Sheboygan's Big Fish Board". You do not need to be a club member to register your catch. All fish must be caught in Sheboygan waters and the weight documented at either the Wharf or a recognized area fishing tournament. A trophy will be awarded to all anglers at the end of the year and presented by the Sheboygan Area Great Lakes Sport Fishermen Club. Awards will be presented at the club's banquet held in February. Best of luck this season!
Big Fish Board has been postponed 2021
2020 Big Fish Board
| | | | | | |
| --- | --- | --- | --- | --- | --- |
| Species | Weight | Length | Date | Angler | Boat |
| | | | | | |
| --- | --- | --- | --- | --- | --- |
| Chinook Salmon | 00.00 lbs | open | na | na | na |
| Coho Salmon | 00.00 lbs | open | na | na | na |
| Rainbow Trout | 00.00 lbs | open | na | na | na |
| Lake Trout | 00.00 lbs | open | na | na | na |
| Brown Trout | 00.00 lbs | open | na | na | na |
2019 Big Fish Board
| | | | | | |
| --- | --- | --- | --- | --- | --- |
| Species | Weight | Length | Date | Angler | Boat |
| | | | | | |
| --- | --- | --- | --- | --- | --- |
| Chinook Salmon | 34.69 lbs | open | 6/22/19 | J. Schaver | Slammin |
| Coho Salmon | 24.74 lbs | 37" | 8/06/19 | D Schuette | Lake Effect |
| Rainbow Trout | 19.01 lbs | open | 7/13/19 | T Kruse | Cheers |
| Lake Trout | 24.41 lbs | open | 7/05/19 | K Cadwell | Bills & Gills |
| Brown Trout | 28.24 lbs | open | 7/26/19 | R Dotz | na |
2018 Big Fish Board
| | | | | | |
| --- | --- | --- | --- | --- | --- |
| Species | Weight | Length | Date | Angler | Boat |
| | | | | | |
| --- | --- | --- | --- | --- | --- |
| Chinook Salmon | 31.82 lbs | open | open | B Johnson | na |
| Coho Salmon | 12.75 lbs | open | open | J Biederwolf | na |
| Rainbow Trout | 16.84 lbs | open | open | J Gruber Sr | na |
| Lake Trout | 23.04 lbs | open | open | J Genson | Jubilato |
| Brown Trout | 22.21 lbs | open | open | K Groh | na |
2017 Big Fish Board
| | | | | | |
| --- | --- | --- | --- | --- | --- |
| Species | Weight | Length | Date | Angler | Boat |
| | | | | | |
| --- | --- | --- | --- | --- | --- |
| Chinook Salmon | 33.46 lbs | na | open | S Wakefield | na |
| Coho Salmon | 16.60 lbs | na | open | J Sharpe | na |
| Rainbow Trout | 16.82 lbs | na | 7/22/17 | R Saron | Fish Tales |
| Lake Trout | 19.76 lbs | na | open | J Fetterer | na |
| Brown Trout | 28.73 lbs | na | open | K Groh | na |
2016 Big Fish Board
| | | | | | |
| --- | --- | --- | --- | --- | --- |
| Species | Weight | Length | Date | Angler | Boat |
| | | | | | |
| --- | --- | --- | --- | --- | --- |
| Chinook Salmon | 34.34 lbs | na | 7/24/16 | J Merritt | Lagniati |
| Coho Salmon | 13.57 lbs | na | 7/02/16 | D Kalkopf | Nut'n EZ |
| Rainbow Trout | 18.84 lbs | na | 8/11/16 | A Rice | Sea Dog |
| Lake Trout | 27.18 lbs | na | 7/10/16 | W Kregel | Poseidon |
| Brown Trout | 35.72 lbs | na | na | B Hansmann | Smells Like Fish |
2015 Big Fish Board
| | | | | | |
| --- | --- | --- | --- | --- | --- |
| Species | Weight | Length | Date | Angler | Boat |
| | | | | | |
| --- | --- | --- | --- | --- | --- |
| Chinook Salmon | 23.56 lbs | na | 8/01/15 | T Reish | Stone Cold |
| Coho Salmon | 9.13 lbs | na | na | A Sharpe | na |
| Rainbow Trout | 17.22 lbs | na | na | D Groh | na |
| Lake Trout | 25.33 lbs | na | 8/16/15 | T Lisowe | na |
| Brown Trout | 18.50 lbs | na | 7/19/15 | J Schwonek | na |
2014 Big Fish Board
| | | | | | |
| --- | --- | --- | --- | --- | --- |
| Species | Weight | Length | Date | Angler | Boat |
| | | | | | |
| --- | --- | --- | --- | --- | --- |
| Chinook Salmon | 28.86 lbs | na | 7/24/14 | Trent Goldapske | Head Hunter |
| Coho Salmon | 13.53 lbs | na | 6/28/14 | TJ Endens | Gold Stone |
| Rainbow Trout | 17.22 lbs | na | 9/21/14 | Dawn Fitzmaurice | Sea Dog |
| Lake Trout | 19.47 lbs | na | 7/12/14 | Eric Grittinger | Shore |
| Brown Trout | 22.41 lbs | 36" | 6/7/14 | Jeff Thorsor | Sea Dog |
2013 Big Fish Board
| | | | | | |
| --- | --- | --- | --- | --- | --- |
| Species | Weight | Length | Date | Angler | Boat |
| | | | | | |
| --- | --- | --- | --- | --- | --- |
| Chinook Salmon | 31.42 lbs | na | 9/13/13 | S Cotton | Texas Cyclops |
| Coho Salmon | 14.67 lbs | na | 9/21/13 | A Williams | Head Hunter |
| Rainbow Trout | 17.19 lbs | na | 7/27/13 | M Reidebach | na |
| Lake Trout | 23.60 lbs | na | 8/16/13 | S Hosch | Hi-Tech |
| Brown Trout | 27.70 lbs | na | 4/28/13 | Lucas Martin | na |
2012 Big Fish Board
| | | | | | |
| --- | --- | --- | --- | --- | --- |
| Species | Weight | Length | Date | Angler | Boat |
| | | | | | |
| --- | --- | --- | --- | --- | --- |
| Chinook Salmon | 23.34 lbs | 38" | 7/28/12 | Luke Hanson | Good Clean Livin |
| Coho Salmon | 12.62 lbs | 33" | 9/16/12 | Cody Werdec | na |
| Rainbow Trout | 14.31 lbs | 33" | 8/12/12 | Randy Mueller | The Bounty |
| Lake Trout | 22.70 lbs | 40" | 9/30/12 | George Stacey | Dead Reckon |
| Brown Trout | 23.62 lbs | 35" | 10/12/12 | Ken Street | Sea Dog |
2011 Big Fish Board
| | | | | | |
| --- | --- | --- | --- | --- | --- |
| Species | Weight | Length | Date | Angler | Boat |
| | | | | | |
| --- | --- | --- | --- | --- | --- |
| Chinook Salmon | 31.85 lbs | 41" | 9/21/11 | Theodore Hocevar | Shore |
| Coho Salmon | 15.09 lbs | na | 9/22/11 | Jim McCauley | Tonka Toy |
| Rainbow Trout | 16.81 lbs | na | 7/15/11 | Ian Schiebie | Justin Nigh Boat |
| Lake Trout | 27.50 lbs | na | 5/24/11 | Ray Capetillo | Piss on Money |
| Brown Trout | 18.94 lbs. | na | 8/23/11 | Bryce Holz | Sea Dog |
2010 Big Fish Board
| | | | | | |
| --- | --- | --- | --- | --- | --- |
| Species | Weight | Length | Date | Angler | Boat |
| | | | | | |
| --- | --- | --- | --- | --- | --- |
| Chinook Salmon | 25.00 lbs | 40" | 8/01/10 | Joe Regan | Wolf Pack |
| Coho Salmon | 11.56 lbs. | na | 8/07/10 | Dean Brotz | Fin Seeker |
| Rainbow Trout | 15.23 lbs. | 36.5" | 6/13/10 | Amy Kvetlow | High Roller |
| Lake Trout | 19.73 lbs. | na | 6/11/10 | Todd Felsinger | Shadow |
| Brown Trout | 22.20 lbs | 35" | 7/12/10 | John Skvarce | Top Gun |
2009 Big Fish Board
| | | | | | |
| --- | --- | --- | --- | --- | --- |
| Species | Weight | Length | Date | Angler | Boat |
| | | | | | |
| --- | --- | --- | --- | --- | --- |
| Chinook Salmon | 28.80 lbs | na | 9/15/09 | Don Tershacr | Shore Angler |
| Coho Salmon | 11.37 lbs | na | 6/28/09 | Kevin Ketz | Sea Dog |
| Rainbow Trout | 14.06 lbs | na | 6/20/09 | Rob Christianson | Sorry Charlie |
| Lake Trout | 16.33 lbs | 34" | 6/12/09 | Dave Dortman | Angry Minnow |
| Brown Trout | 20.00 lbs | na | 8/01/09 | Brandon Pszanka | Wolf Pack |
2008 Big Fish Board
| | | | | | |
| --- | --- | --- | --- | --- | --- |
| Species | Weight | Length | Date | Angler | Boat |
| | | | | | |
| --- | --- | --- | --- | --- | --- |
| Chinook Salmon | 26.16 lbs | 39.7" | 8/10/08 | Craig Schnuelle | AquaFox |
| Coho Salmon | 12.85 lbs | 32.0" | 9/03/08 | Meryl Anderson | Sea Dog |
| Rainbow Trout | 14.09 lbs. | 34.0" | 8/09/08 | Terry Bitter | na |
| Lake Trout | 15.72 lbs | 34.1" | 8/09/08 | David Lutze | Team Pest |
| Brown Trout | 18.78 lbs | na | 9/15/08 | Wally VanEps | Stars & Stripes |
2007 Big Fish Board
| | | | | | |
| --- | --- | --- | --- | --- | --- |
| Species | Weight | Length | Date | Angler | Boat |
| | | | | | |
| --- | --- | --- | --- | --- | --- |
| Chinook Salmon | 23.68 lbs. | na | 8/12/07 | Barry Martin | Terminator |
| Coho Salmon | 10.58 lbs. | na | 9/3/07 | Bob Krogman | Sea Dog |
| Rainbow Trout | 17.18 lbs. | 36.5" | 6/29/07 | Lynn Howard | Dead Reckon |
| Lake Trout | 18.26 lbs | 35.2" | 8/12/07 | Cole Kneser | na |
| Brown Trout | 19.85 lbs. | na | 8/12/07 | Rob Ecker | Money Pit |
2006 Big Fish Board
| | | | | | |
| --- | --- | --- | --- | --- | --- |
| Species | Weight | Length | Date | Angler | Boat |
| | | | | | |
| --- | --- | --- | --- | --- | --- |
| Chinook Salmon | 29.90 lbs. | 39" | 8/05/06 | John Ahsasd | Jaws |
| Coho Salmon | 9.78 lbs. | 29" | 9/21/06 | Mitch Gebheim | Sea Dog |
| Rainbow Trout | 16.67 lbs. | 35" | 7/21/06 | Mike Klein | Sea Dog |
| Lake Trout | 18.22 lbs. | 37" | 5/22/06 | Andy Likes | Happy Hooker |
| Brown Trout | 20.51 lbs. | 34" | 7/11/06 | Jacob Hildebrand | Rebellion |
2005 Big Fish Board
| | | | | | |
| --- | --- | --- | --- | --- | --- |
| Species | Weight | Length | Date | Angler | Boat |
| | | | | | |
| --- | --- | --- | --- | --- | --- |
| Chinook Salmon | 27.37 lbs. | 40" | 8/19/05 | Wayne Eschen | Lund Runner |
| Coho Salmon | 16.04 lbs. | na | 7/14/05 | Jason Schaller | na |
| Rainbow Trout | 15.92 lbs. | na | 6/30/05 | Al Joswick | Sorry Charlie |
| Lake Trout | 19.01 lbs. | na | 9/03/05 | Michelle Rangaard | Beach Baby |
| Brown Trout | 22.75 lbs. | na | 7/27/05 | James Thomas | Salmonater |
2004 Big Fish Board
| | | | | | |
| --- | --- | --- | --- | --- | --- |
| Species | Weight | Length | Date | Angler | Boat |
| | | | | | |
| --- | --- | --- | --- | --- | --- |
| Chinook Salmon | 26.76 lbs. | 34" | 7/03/04 | Jamie Dickrell | Sea Dog |
| Coho Salmon | 20.50 lbs. | 36" | 9/26/04 | Tim Schweitzer | Sorry Charlie |
| Rainbow Trout | 17.40 lbs. | na | 7/15/04 | G. Werner | Sorry Charlie |
| Lake Trout | 23.18 lbs. | 37" | 7/26/04 | Jim Vercouteren | Sea Dog |
| Brown Trout | 20.98 lbs. | na | 7/21/04 | Jeannie Genske | The Duke |
2003 Big Fish Board
| | | | | | |
| --- | --- | --- | --- | --- | --- |
| Species | Weight | Length | Date | Angler | Boat |
| | | | | | |
| --- | --- | --- | --- | --- | --- |
| Chinook Salmon | 30.25 lbs. | na | 7/12/03 | Bill Hunter | Sorry Charlie |
| Coho Salmon | 18.50 lbs. | 35" | 8/17/03 | Richard Bell | Beach Baby |
| Rainbow Trout | 17.25 lbs. | na | 6/22/03 | Jim Schaefer | Captain Lucky |
| Lake Trout | 18.60 lbs. | 36.5" | 8/09/03 | Bryan Gruenke | Hi-Tech |
| Brown Trout | 18.85 lbs. | 34" | 10/03/03 | Guy McNutt | Sea Dog |
2002 Big Fish Board
| | | | | | |
| --- | --- | --- | --- | --- | --- |
| Species | Weight | Length | Date | Angler | Boat |
| | | | | | |
| --- | --- | --- | --- | --- | --- |
| Chinook Salmon | 30.60 lbs. | 41" | 7/19/02 | David Krieg | Big Rigg |
| Coho Salmon | 9.90 lbs. | na | 6/23/02 | Todd Dezoute | na |
| Rainbow Trout | 22.00 lbs. | 41" | 6/20/02 | Andy Vollrath | Nothing Biting |
| Lake Trout | 25.50 lbs. | 38.5" | 6/16/02 | John Soltis | Weekender |
| Brown Trout | 24.50 lbs. | na | 7/26/02 | John Harbridge | Domino |
2001 Big Fish Board
| | | | | | |
| --- | --- | --- | --- | --- | --- |
| Species | Weight | Length | Date | Angler | Boat |
| | | | | | |
| --- | --- | --- | --- | --- | --- |
| Chinook Salmon | 35.75 lbs. | 43" | 8/11/01 | Chris Fitzharris | Sea Dog |
| Coho Salmon | 10.75 lbs. | na | 5/28/01 | Don Beeck | Moby Don |
| Rainbow Trout | 17.75 lbs. | na | 6/17/01 | Don Beeck | Moby Don |
| Lake Trout | 25.28 lbs. | na | 6/22/01 | Todd Landry | First Blood |
| Brown Trout | 25.50 lbs. | 36" | 9/9/01 | Rich Frohmader | Sea Dog |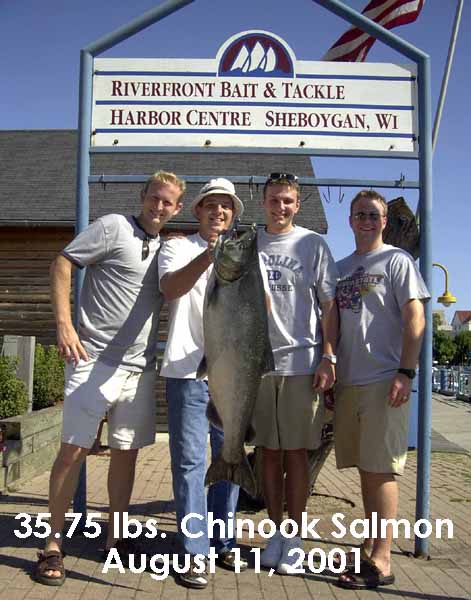 Send us an Email
Or call 920-918-2628 for fishing reservations
Sea Dog Sportfishing Charters Home Page
Captain James Schlegel and Sea Dog Sportfishing Charters provides over 40 years of full time experience fishing Lake Michigan
Wisconsin Salmon Fishing and Wisconsin Trout Fishing on Lake Michigan out of Sheboygan Wisconsin - Copyright 2001 - 2023 All Rights Reserved
Wisconsin. Fishing Charters, Wisconsin Charter Fishing for Chinook Salmon, Coho Salmon, Rainbow Trout, Brown Trout, and Lake Trout
Wisconsin Salmon Fishing, Lake Michigan Salmon Charters, Salmon Fishing Charters Wisconsin, Charter Fishing Sheboygan, Charter Fishing Wisconsin